Joe Lynn Turner on Tour in September 2023
Back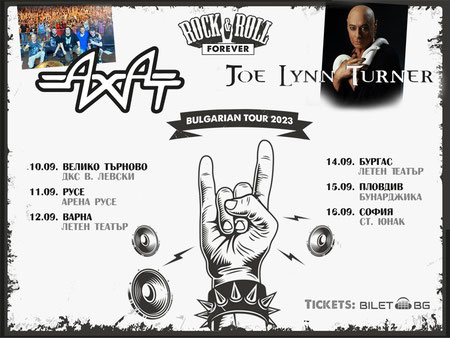 Bulgarian band Ahat and Jo Lynn Turner are preparing a national tour in September 2023
Six cities and many surprises are gathered under the title ROCK&ROLL FOREVER
Everyone's favourite rock band Ahat and vocal titan Joe Lynn Turner (ex-Rainbow/Deep Purple) are reuniting again for a national tour together - they will tour Bulgaria's biggest cities in mid-September. The tour is produced by SME.
"Joe and I are old friends - says vocalist Zvezdi Keremidchiev - and we easily rallied behind this idea as we haven't been on stage together since 2018 and that big show at NDK. He has a new album, a new vision, in general he is highly motivated to share the new page in his long and glorious career. And we're just motivated by the principle "a needle in a bag doesn't stand", ha ha. We want to play, we want to sing, we want to shake our heads with the fans in front of the stage, the age doesn't matter. We're also working on new songs, but we'll save the surprises for the shows. We guarantee they'll be something different and cool!"
Definitely the collaboration of the popular Bulgarian rockers and the legend Joe Lynn Turner's makes the tour one of the most interesting events in the Bulgaria this autumn.
The tour program, symbolically titled ROCK&ROLL FOREVER, includes:
10 September - VELIKO TURNOVO, Vasil Levski State Culture Complex
11 September - RUSE, "Arena Ruse"
12 September - VARNA, Summer Theatre
14 September - BURGAS, Summer Theatre
15 September - Plovdiv, Summer Theatre, Bunardzhika Park
16 September - Sofia, Yunak Park Centre
Tickets for AHAT & JOE LYNN TURNER - ROCK & ROLL FOREVER TOUR can be purchased in the network of Bilet.bg (incl. shops "In the dark" and box offices of FastPay) and online at
https://sme.bilet.bg/
and are on sale at prices from:
50 BGN until 30.04.2023 incl. 60 BGN from 01.05.2023 until the day of the respective concert 70 BGN on the day of each concert, and will be sold on the spot 80 BGN - VIP seat in a designated area with the best visibility and separate entrance access
* Children under 10 years of age enter without a ticket but with an accompanying adult.